July 1, 2023
TAITN SWORD
TAITN cultivates and embodies spiral or serpent power; the power of Nature – the voice of Destiny. TAITN is based on the Yang Style Long Form of Taiji and the spiraling motions within Tennis. The Form is medicine and a practice in self-realization and for those interested it is a practice in mastering motion for the relaxed, but full expression of internal power. The benefits are far reaching from healing to high performance. We move to unite the breath, the body, the mind and the spirit with the Yin energy of the Earth from below and theYang energy of Heaven or Stars from above. The alchemy produces Jin or internal power and reconnects us to the power of Nature – the voice of Destiny.
Saturday July 1, 2023
9:30am – Noon
9:30am Wild, Ancient Tree Tea Tasting
Stryder Simms
10:00am Qigong Nei Gong TaiJi
Jeff English
11:00am TAITN  SWORD
Jeff English

LOCATION: Water & History Park on Upper Canyon Rd. (view map)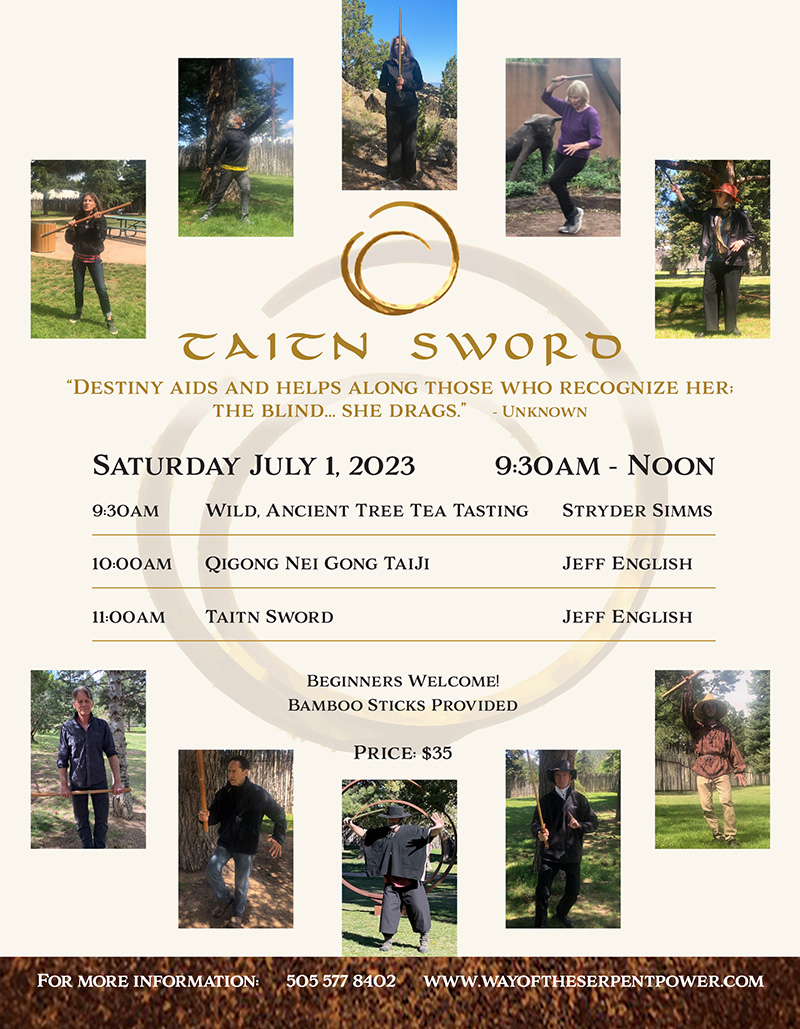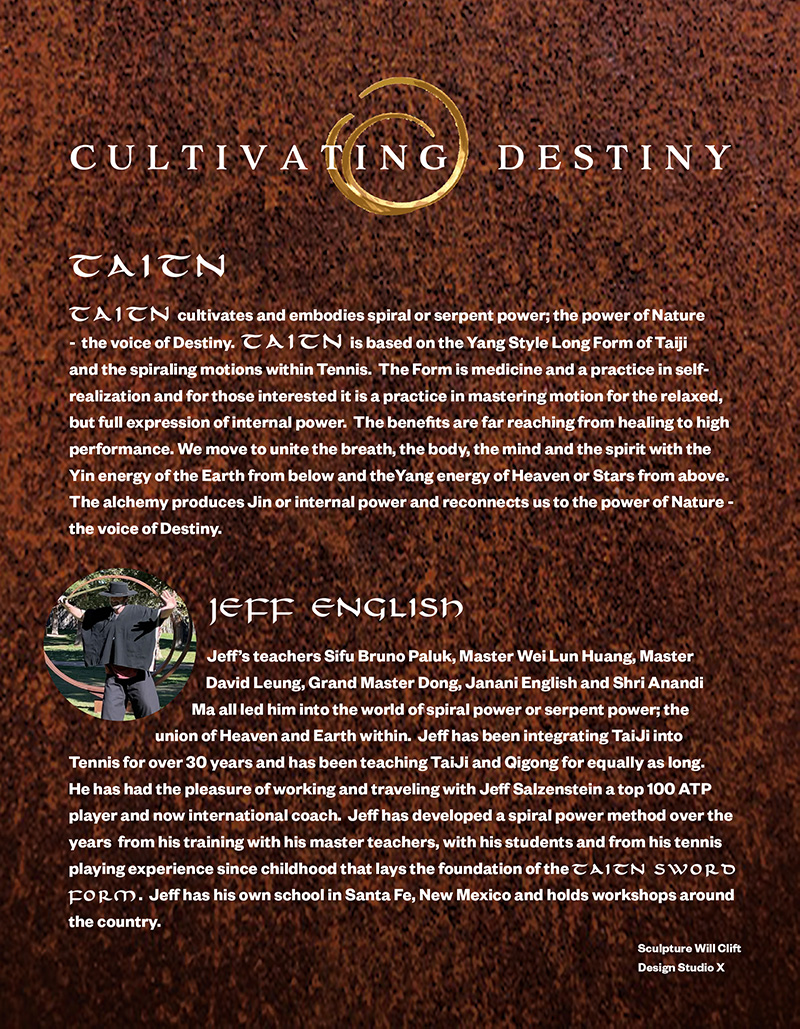 June 25, 2022
TAI JI QIGONG NEI GONG WORKSHOP
We first go inward relaxing, sinking the Qi, accumulating life-force, then learn to move as Nature moves. As we learn to move as Nature moves, Nature begins to move through us. In movement we discover stillness, in stillness we discover movement. Join us as we retreat into ourselves and into the wilderness where Tai Ji, Qigong, and Nei Gong found their origin and cultivate the presence and the magic of Nature! I am very excited to invite you to this intimate workshop experience that begins at the Water & History Park on Upper Canyon Rd. among beautiful ancient Pines, then in the afternoon we go up the mountain to Aspen Vista to hike and continue our practice among the majestic Aspens. This will be a most relaxing and peaceful day, and will include:
9:30am – 10: Gathering with tea.
10am – 12: Tai Ji Qigong Nei Gong.
12:30pm: Lunch.
2pm – 4: Hike and Practice in Nature.
No prior experience needed Lunch will be at the Tea House for those who choose. Space is limited.

RSVP by June 23rd
Thank you.
Hope to see you!
Jeff 
Join us for Tai Ji Qigong Nei Gong Workshop – Register Now!